Welcome to our yoga studio! I am so excited to share the benefits of yoga and mat Pilates with you! Looking forward to seeing you soon!
Try our BALLET BARRE PILATES classes!
Please feel free to stop by for 2 weeks for $20 of Mat Yoga and Ballet Barre (Aerial Yoga not included)!
We believe in providing an effective and exciting workout that builds strength and endurance, without adding unnecessary bulk. We want you to get into great shape by using core enhancing Pilates exercises and strength building yoga poses that lengthen and tone, giving you a dancer like body. You will achieve:
Increased flexibility

Stronger muscles (without bulk)

Enhanced body tone

Reduced stress

Better posture

Increased endurance

Relaxed and clear mind

Stronger core

Improved balance

Injury prevention
Upcoming Workshops
Spring into Fitness SALE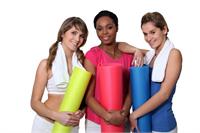 10 class pass $90 (mat yoga/barre)
Regularly $125
This deal expires April 20.
This time of the year, we enjoy the changes the spring season brings us. Flowers bloom and leaves shine. We encourage you to bloom and shine too! (Limit one deal per person.)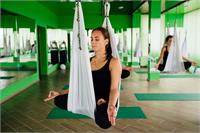 Try Aerial Gentle Stretch Class
Sundays at 12:00 pm
(with Carol)
Have you always wanted to try Aerial Yoga, but going upside down or climbing are not for you? Then, try our new Aerial Stretch Class on Sundays at noon. This is a more relaxing approach to Aerial Yoga with only luxurious stretches and calming yoga poses. Enjoy some wonderful stretches using the aerial yoga fabric as a supportive and relaxing prop. Lay or sit softly in the fabric for full body stretches and relaxation. Stretch your legs with one leg on the floor and the other in the fabric. Melt away daily stress.
Easter Sunday Special Class
Condensed Class Schedule. We will only have one class this special day. This class will be regular class price.

Sun, April21
9 – 10 am
Vinyasa 1-2
(with Christina)
Casting Vision (A Workshop for Women)
with Jill Hines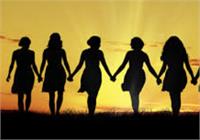 Sat, April 27
2:00 – 4:30 pm
$15 per person
Dream into possibilites for your life in the safety of a tribe. Discover the 3 biggest blocks keeping you from making decisions. Mine the gems of intuition and trust within yourself.